Find out how your body works through some lab tests
Find out how your body works through some lab tests
with personalised functional nutrition approach
Modern life continually pushes our health and vitality to the absolute limits in many ways. It's no wonder many of us feel sick, tired, burned out, and burdened with less than excellent health. Let's get you back to YOU again!
Welcome to my World! Good to have you here.
For those who don't know me yet, I am Adriano dos Santos, BSc (Hons), NWP, RSM ESIM, a functional nutrition practitioner, health speaker and food-lover. With over 20 years of experience in the field of sports science and nutrition therapy, I have developed effective tools and strategies to help individuals restore their health through simple dietary changes. As a fellow member of the Royal Society of Medicine and The European Society of Integrative Medicine, I stay up-to-date with the latest scientific and medical training. Recently, I took a year's sabbatical to reflect on the next steps of my nutrition practice and have decided to focus exclusively on nutrition therapy for metabolic syndrome patients suffering from digestive problems and disrupted sleep. I see patients in person and online, including through my online nutrition programs, e-books, and blogs. I am based in The Hague and Cannes. Besides my nutrition therapy services, I give lectures and workshops for companies on preventive medicine programmes and do consulting work for nutritional supplement companies. Additionally, I will embark on two new studies this year, a master's program at The International University of Madrid in sleep medicine, where I will investigate the relationship between our microbiome, metabolic syndromes and sleep and an Applying Functional Medicine in Clinical Practice (AFMCP) course at IFM institute. Healthy regards, Adriano dos Santos BSc (Hons), NWP, RSM, ESIM
Marcelo Assalin

Thais Bianchini

Skye Ellis

Ed Hulshof

Joost Meininger

Beatrice Milletti

Marianna Phillipott

Lesley Roberts

Alethea Clarke
Don't strugle on your own




Get lasting results you never thought possible




Effective one-on-one coaching




Build new habits every week




Nutrition programme based on laboratory tests
Shop self-paced programmes
Improving your digestion and microbiome with this easy 30 days program
Get this Nutrition Macronutrient and Portion Guide based on your metabolism—with macros, calorie, and portions—it's personalized for your body, eating preferences, and goals
This keto plan uses only healthy ingredients and lots of plant-based products
Learn step by step how you can reach your six pack dream with this easy guide
Delicious 30 days menus containing all the colours of the rainbow and nutrient which can help in reducing stress in your body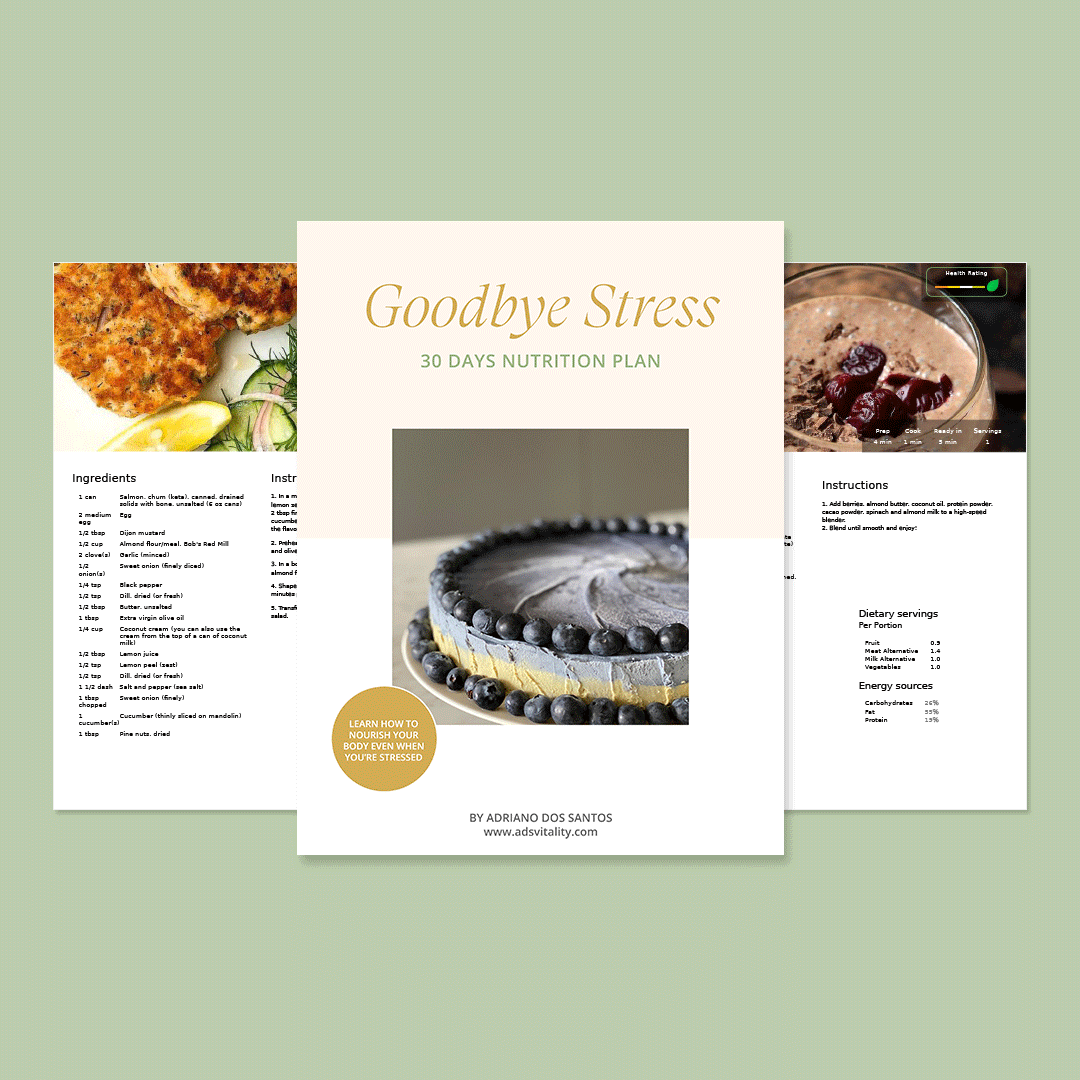 Calorie Counting Debunked
This comprehensive infographic explains why calorie counting doesn't work and how you can create your own nutritional plan.
Follow along #adsvitality