Find out how your body works through some lab tests
Find out how your body works through some lab tests
with personalised functional nutrition approach
Modern life continually pushes our health and vitality to the absolute limits in many ways. It's no wonder many of us feel sick, tired, burned out, and burdened with less than excellent health. Let's get you back to YOU again!
Welcome to my World! Good to have you here.
For those who don't know me yet, I am Adriano dos Santos, BSc NWP RSM eREPS, a functional nutrition practitioner, health speaker and food-lover. I hold a BSc in Sports Science with a major in Exercise Physiology. I also graduated in Human Nutrition Science (BSc) and have done plenty of training in nutrition therapy practice. Over the last two decades, I have developed tools, strategies, and clinical protocols to help people restore their health with simple, effective dietary changes. ​ I'm constantly acquiring new qualifications and knowledge to help my clients achieve their health goals more effectively. I'm a bit of a geek who always has my head in the current health, medicine & nutrition book and I love staying up to date with all the current courses. As a fellow member of the Royal Society of Medicine (RSM), I always get the most up-to-date scientific medical training. ​ This hunger for new knowledge and helping people achieve optimal health encourages me to take a year's sabbatical to reflect on the next steps in my career. Between 2021 and 2022, I took a break from my coaching business, which has been extremely helpful in seeing where I would like to focus my energy. That was so insightful and brought me loads of wisdom. After 20 years of being a personal trainer in the field of the Fitness industry, I've decided to focus exclusively on nutrition therapy to help people achieve optimal health. That doesn't mean that I'm leaving the fitness element behind. That means that I'll be working together with fitness professionals to help my clients to get fitter. ​ Whilst I still see patients face to face, I've always coached people online and even more after the Covid pandemic. I have also created my online nutrition programmes, e-books and blog to help you on the road to better health. I've given a lot of lectures and workshops for large groups in companies in preventive medicine programmes.  As part of my professional growth, I will also embark on new studies, a master's programme in sleep medicine and functional medicine practitioner, starting in 2023.  Stay tuned here or via my social media channels.  Healthy regards, Adriano dos Santos, BSc NWP RSM eREPS
| Marcelo Assalin | Thais Bianchini |
| --- | --- |
| Skye Ellis | Ed Hulshof |
| Joost Meininger | Beatrice Milletti |
| Hortensia Hortis | Marianna Phillipott |
| Lesley Roberts | Alethea Clarke |
Don't strugle on your own




Get lasting results you never thought possible




Effective one-on-one coaching




Build new habits every week




Nutrition programme based on laboratory tests
Shop self-paced programmes
Improving your digestion and microbiome with this easy 30 days program
Get this Nutrition Macronutrient and Portion Guide based on your metabolism—with macros, calorie, and portions—it's personalized for your body, eating preferences, and goals
This keto plan uses only healthy ingredients and lots of plant-based products
Learn step by step how you can reach your six pack dream with this easy guide
Delicious 30 days menus containing all the colours of the rainbow and nutrient which can help in reducing stress in your body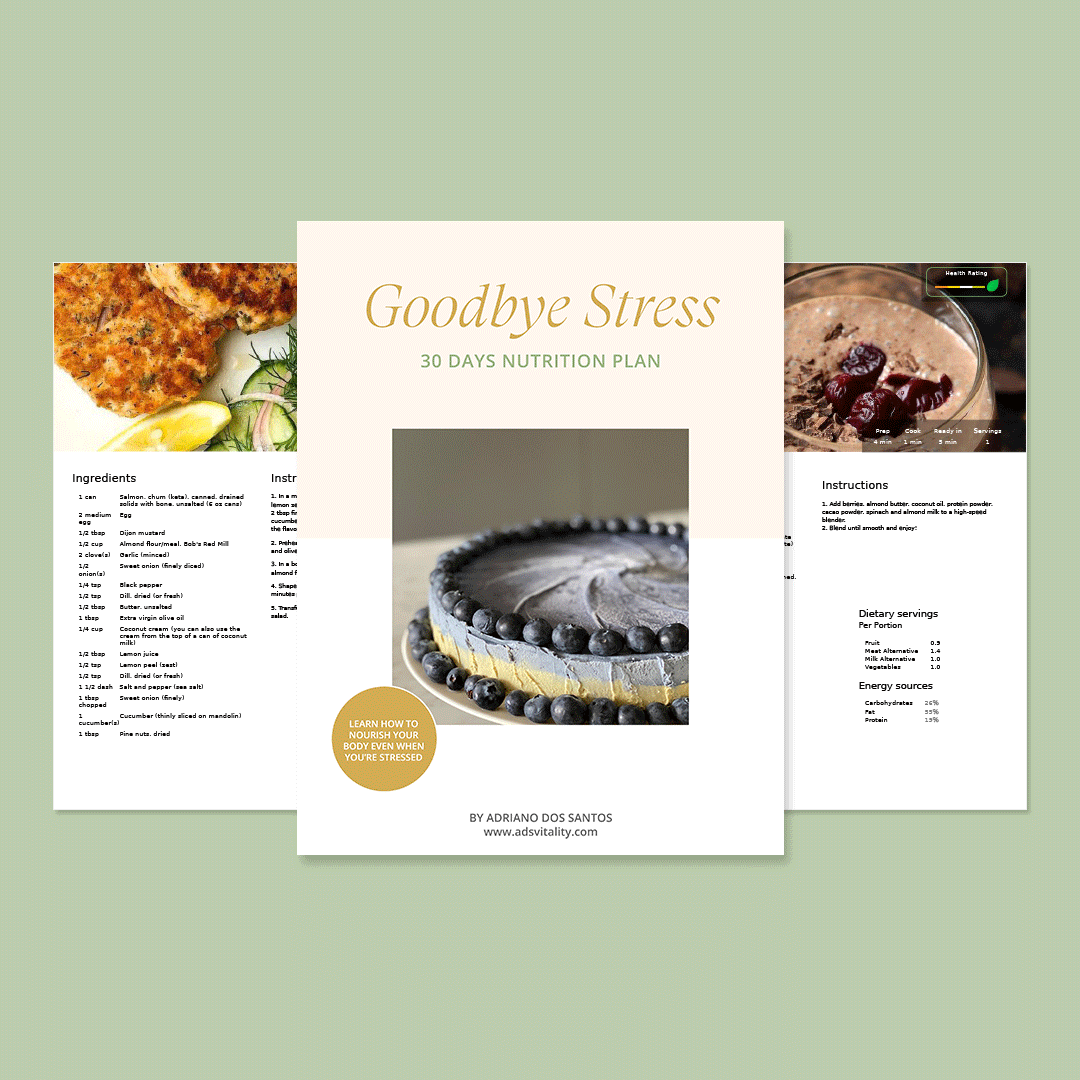 Calorie Counting Debunked
This comprehensive infographic explains why calorie counting doesn't work and how you can create your own nutritional plan.
Follow along #adsvitality